Theme: Solace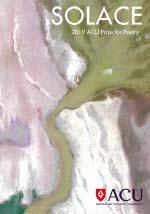 "The best remedy for those who are afraid, lonely or unhappy is to go outside, somewhere where they can be quiet, alone with the heavens, nature and God... I firmly believe that nature brings solace in all troubles."- Anne Frank
Judge: Professor Chris Wallace-Crabbe AM
Purchase a copy of the 2019 Chapbook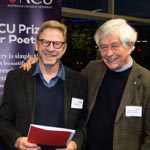 Winner
"Revising Casuarinas" by John Foulcher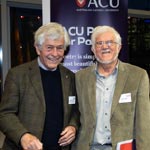 2nd prize
"Single Women in Their Later" by Geoff Page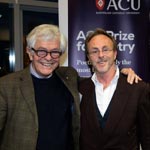 3rd prize
"October Morning After Rain" by Mark Tredinnick
Highly commended
"The Whale" by Frank Corso (PDF, 109KB)
"The Blackwood River's Song" by Rose van Son (PDF, 153KB)
"Last Night on Mount Zion" by Anne Benjamin (PDF, 103KB)
ACU Student Chapbook Cover Design winner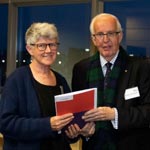 Joanne Holmes
My family and I lived 'on the road' for 14 years, pursuing our dreams. We experienced a unique way of sharing life together. We travelled in a Bedford motor home and nature was our back yard in which to explore, learn, play and rest. Special moments included discovering the ochre pits in Burt Plain, NT; driving through the lunar landscape of the Painted Desert in SA; visiting the central desert town of Yuendumu for the community sports weekend; swimming at Esperance WA after crossing the Nullarbor and sweeping red dirt out of everything.
The Darling river was a favourite place to camp, and we returned there often. We would fish, catch yabbies and spend endless hours absorbing the country and the night sky. But we never made it to Lake Eyre, Kati Thanda. The Bedford couldn't take the corrugations! I heard it was filling up this year (2019) and poured over images in the newspapers, including satellite and aerial photographs. As we grieve the state of the Darling river system, the sight of Lake Eyre basin slowly filling, has become a very hopeful visual image for me. I drew on this inspiration when designing the cover of the ACU Poetry Prize book.
I was drawn to use chalk pastels because of their capacity to create a luxurious dusty texture and represent the salinity and the beautiful sand dunes that form around the lake. A sans-serif font appealed against the soft swirling artwork to add contrast and modernity. Solace is often experienced after enduring hardship. Observing Lake Eyre filling after devastating drought in many areas of the country, we can draw solace from this rare and life-giving occurrence.