Theme: Generosity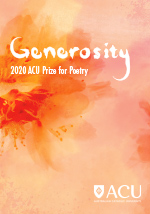 "If truth doesn't set you free, generosity of spirit will." - Katerina Stoykova Klemer
Purchase a copy of the 2020 Chapbook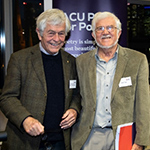 Winner
"Jericho'' by Geoff Page
2nd prize
"Footprints" by Fiona Lynch
3rd prize
"Atlas Carried the World" by Damen O'Brien
Highly commended
"Enitharmon's Bower" by Joe Dolce (PDF, 28KB)
"The Paris End" by Jo Gardiner (PDF, 21KB)
"Sonnets for a Mother" by Brendan Ryan (PDF, 74KB)
ACU Student Chapbook Cover Design winner - Naomi Thorpe
Generosity is the quality of being kind and generous, plentiful or large. To me, generosity invokes warmth. When I think of generosity, I think of my grandparents, the way kindness radiates off them, the things they do for me and the time they spend making food for our family. So for one of the main components of my design, I've used a photograph of blossoms from their garden. Not only do the blossoms carry a personal meaning, but their beautiful organic shapes facing outwards and branching out represent both giving and receiving.
Warmth - My design's main focus was to be warm, so when creating the background artwork, I chose pinks, reds, oranges and yellows. I chose to work with warmness as my main aesthetic because when I think of generosity, I think kindness, I think the feeling people get from receiving kindness is warmth. The photos of the flowers have a colour burn effect on them, so that the shape and forms of the flowers would remain but they would be more embedded in the background, and produce even more warmth.
Loose - Working with inks and watercolour I wanted to give the design a loose feel, to express the abundance in generosity. The many colours blend into each other in a flowy way, and make the design appear unconfined. The title "Generosity" was made using an ink brush, to give continuity between all the elements. It also makes the word look more handmade which I thought would connect to the ideas of generosity better than if it were done with a basic font. I've made the G and y extend outward in the same curve shape, to further instill kindness, giving and receiving.
Humble - Another way generosity appears to me is giving even though you may not get anything in return, generosity is modest, and humble. For this reason, I have chosen to use an inconspicuous font, Futura condensed medium. This sans-serif font does not demand attention, and is simple and easy to read. Instead of using heading style or words all in capital letters, I have kept the design more innocent, and relaxing. White was the colour choice for the text because white is a symbol of purity, I felt black would be too dark and might imply a different meaning, and any other colour would not produce enough contrast to be read easily. In the inside cover, I've included an ink artwork made on very textured paper as I wanted the texture not to be so clean and smooth, but rather imperfect and non calculated.
To conclude, my ACU Prize for Poetry book cover design, includes elements that I believe reflect and echo the meaning of generosity. The warmth in not only the colours, but the overall mood and aesthetic are to provide the reader with the feeling often accompanied with a generous act, and the loose title and background to imply the limitlessness of generosity. To further my idea of generosity being kindness and occasionally self sacrificing, I have made the elements look and feel humble on the page, to show the purity of generosity.
Naomi Thorpe